The Wildlife Society – Hawai'i Chapter is celebrating World Shorebird Week on Hawai'i Island! Join wildlife biologists Alex Wang and Cara Thow for a morning of shorebird watching at 'Aimakapā fishpond.
We will meet at 9 AM at the north side of the Honokohau Marina parking lot and walk to the fishpond from there. Please bring comfortable shoes, snacks, water, sunscreen, and a hat. We can expect to see native species such as a'eo (Hawaiian stilt), kolea (Pacific golden plover), andʻūlili (wandering tattler) as well as have a chance to see some interesting fall vagrants. Check out the ebird list here!
Membership in TWS-Hawai'i is required for this event. To join TWS-Hawai'i, click here.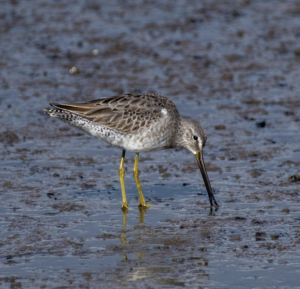 Long-billed dowitcher, Alex Wang