For more than 75 years, The Wildlife Society has been influencing the future of wildlife and wild places for the benefit of generations to come.
The Wildlife Society Hawai'i Chapter
The Wildlife Society Hawai'i Chapter dedicates itself to the conservation and preservation of flora and fauna endemic to the Hawaiian Islands. The Hawai'i Chapter is part of the Western Section of The Wildlife Society. Its membership is drawn from Honolulu, Kaua'i, Mau'i, and Hawai'i (Big Island) counties.
TWS Hawai'i Chapter's objectives are to:
Promote the sound stewardship of wildlife and their habitats in Hawai'i and the Pacific.
Promote the conservation of indigenous and endemic Hawaiian and other Pacific wildlife and their habitats.
Promote the development of knowledge, skills, and abilities necessary for success of wildlife professionals and the conservation community in the State of Hawai'i and Pacific.
The Wildlife Society
Founded in 1937, The Wildlife Society is an international non-profit scientific and educational association dedicated to excellence in wildlife stewardship through science and education. Our mission is to enhance the ability of wildlife professionals to conserve diversity, sustain productivity, and ensure responsible use of wildlife resources for the benefit of society. The Wildlife Society encourages professional growth through certification peer-review Publications, and Conferences. TWS is an international organization committed to addressing national and international issues that affect the current and future status of wildlife in North America and throughout the world.
Society members are dedicated to sustainable management of wildlife resources and their habitats. Ecology is the primary scientific discipline of the wildlife profession, therefore, the interests of the Society embrace the interactions of all organisms with their natural environments. The Society recognizes that humans, as other organisms, have a total dependency upon the environment. It is the Society's belief also that wildlife, in its myriad forms, is basic to the maintenance of a human culture that provides quality living.
Meet the Members of the Board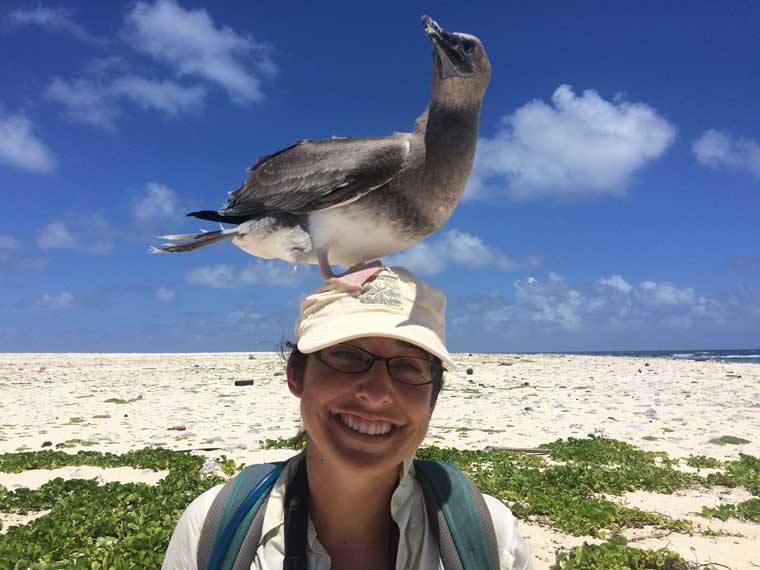 Angela Amlin works for the Pacific Islands Regional Office of NOAA Fisheries as the Hawaiian Monk Seal Recovery Coordinator. She is responsible for leading recovery and management activities for the endangered Hawaiian monk seal alongside colleagues at NOAA's Pacific Islands Fisheries Science Center, and in close coordination with partners and stakeholders. Prior to joining NMFS, Angela worked with the State of Hawaiʻi Division of Forestry and Wildlife focusing on the impacts of alternative energy projects on threatened and endangered seabirds, waterbirds, and bats. She has also worked for the State of California Department of Parks and Recreation, the World Wildlife Fund, and spent many years as an environmental consultant primarily working on endangered species impact assessment and mitigation planning. Angela received her Master of Environmental Management with a concentration in Conservation Science and Policy from Duke University. She has served as the Hawaiʻi Chapter Representative to the TWS Western Section since 2015, and the Hawaiʻi Chapter President since 2016.
Angela Amlin
President & Chapter Rep. to Western Section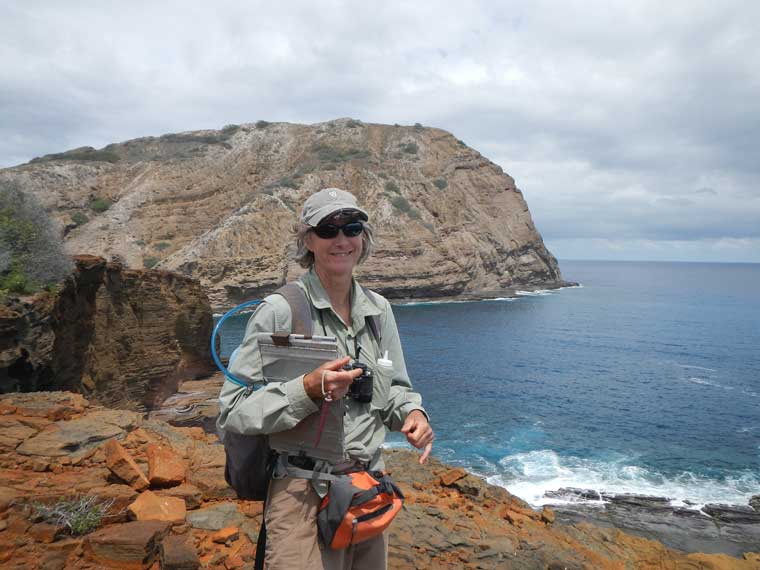 Brenda Becker is a Biological Technician with the Hawaiian Monk Seal Research Program at the National Marine Fisheries Service, Pacific Islands Fisheries Science Center in Honolulu, Hawai'i. She holds a B.S. in Wildlife and Range Management from the University of Nevada-Reno. Brenda began working with the Hawaiian monk seal in 1985 and has extensive experience conducting monk seal field research at all sites in the Northwestern Hawaiian Islands, which entailed living and working for 3-6 months in remote, primitive field camps for 17 seasons. Currently, Brenda is more Oahu-based and manages the monk seal digital photo ID databases, assists with data management, and opportunistically conducts field work. Brenda is a TWS-Certified Wildlife Biologist. She has been an active member of TWS-Hawaii Chapter, serving as Chapter Representative TWS-Western Section 1993-94, Secretary from 2002-2010, Vice-President 2011, Chapter's Newsletter editor 2011-2014, Vice President 2015, Secretary 2016, and Treasurer 2017-2019.
Brenda Becker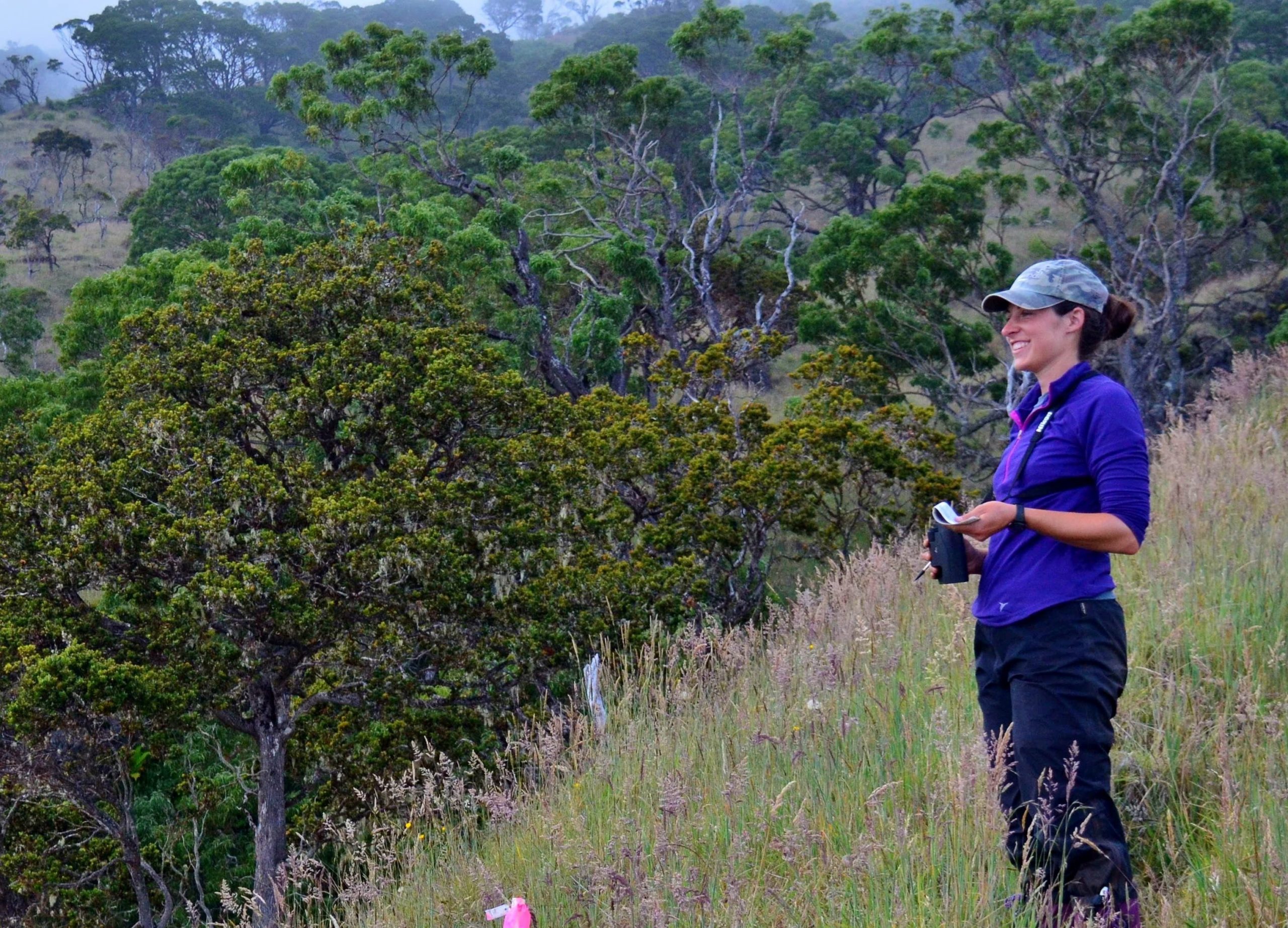 Laura Berthold is an Avian Research Technician at Maui Forest Bird Recovery Project. She began working for MFBRP in January 2009 serving as an AmeriCorps intern. In her current position, she helps lead the field crew, assists with planning and implementing research and management projects for native honeycreeper and forest recovery, writes grants and reports, and engages public support through presentations and other outreach events. Originally from the suburbs of Chicago, Laura studied Environmental Science at Loyola University Chicago. Besides MFBRP work, she has become involved with coastal cleanup programs, seabird banding, forest bird point counts, and more across the main Hawaiian Islands. She is also a previous fellow of the Ka Ipu Kukui leadership program.
Laura Berthold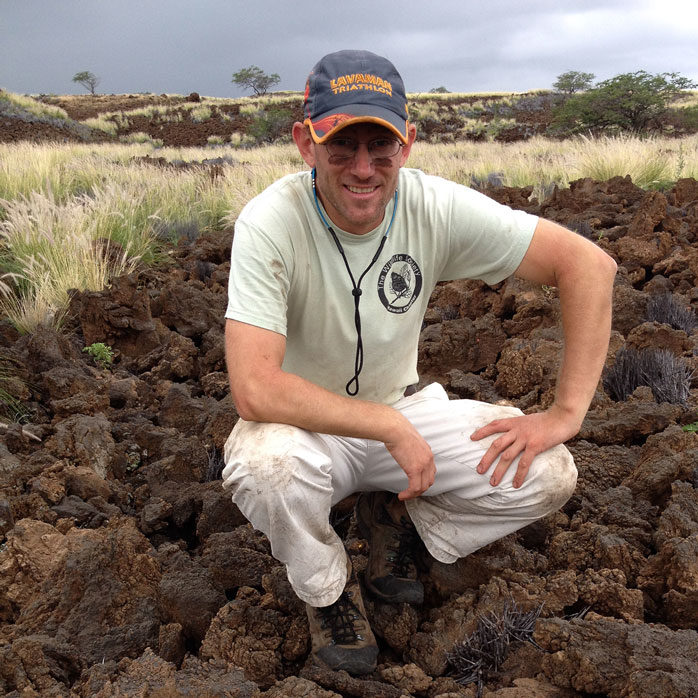 Elliott Parsons is a Natural Area Reserves Specialist for the Hawai`i Division of Forestry and Wildlife at Pu`uwa`awa`a ahupua`a in North Kona, Hawai`i. Elliott writes and manages grants, supervises a crew, and works with a diversity of colleagues, partners, and collaborators on research, natural resource management, and conservation projects. He received his doctorate in Fish and Wildlife Biology from the University of Montana in 2011. In addition to his work at Pu`uwa`awa`a, Elliott serves as a Faculty Affiliate at the University of Hawai`i Hilo for the College of Agriculture and Tropical Conservation Biology and Environmental Science Graduate Program and teaches wildlife science courses. He has also served as chair of the Abstract Committee for the annual Hawai`i Conservation Conference and also serves as Vice President of the Board of Ka`ahahui `O Ka Nāhelehele, a non-profit dedicated to the perpetuation of dryland forests in Hawai`i. Elliott joined the board of the Hawai`i Chapter of TWS in 2013 and has served as Chapter President and Conservation Affairs and Membership Coordinator in the past; he is currently working to provide more professional development opportunities to TWS Hawai`i chapter members through workshops, talks, and guided field expeditions.
Elliott Parsons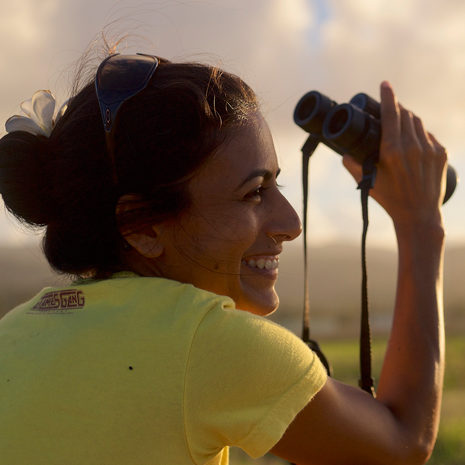 Afsheen Siddiqi is the State of Hawaiʻi Department of Land and Natural Resources (DLNR) Seabird and Waterbird Recovery Coordinator. Afsheen provides broad program coordination for avian conservation, specifically with regards to efforts to recover seabirds, waterbirds, and owls. She is responsible for grant and budget management, program review and development of recovery plans and project implementation and works collaboratively with a diversity of partners. Afsheen is dedicated and passionate about conservation issues in Hawaii and has worked on endangered species issues with the DLNR since 2011. Afsheen received her M.S. in Environmental Sciences focusing on Ecology from the University of Maryland Baltimore County in 2004. Prior to working at DLNR, she completed an Asia Pacific Leadership Program Fellowship with the East West Center with a focus on avian conservation efforts in Southeast Asia.
Afsheen Siddiqi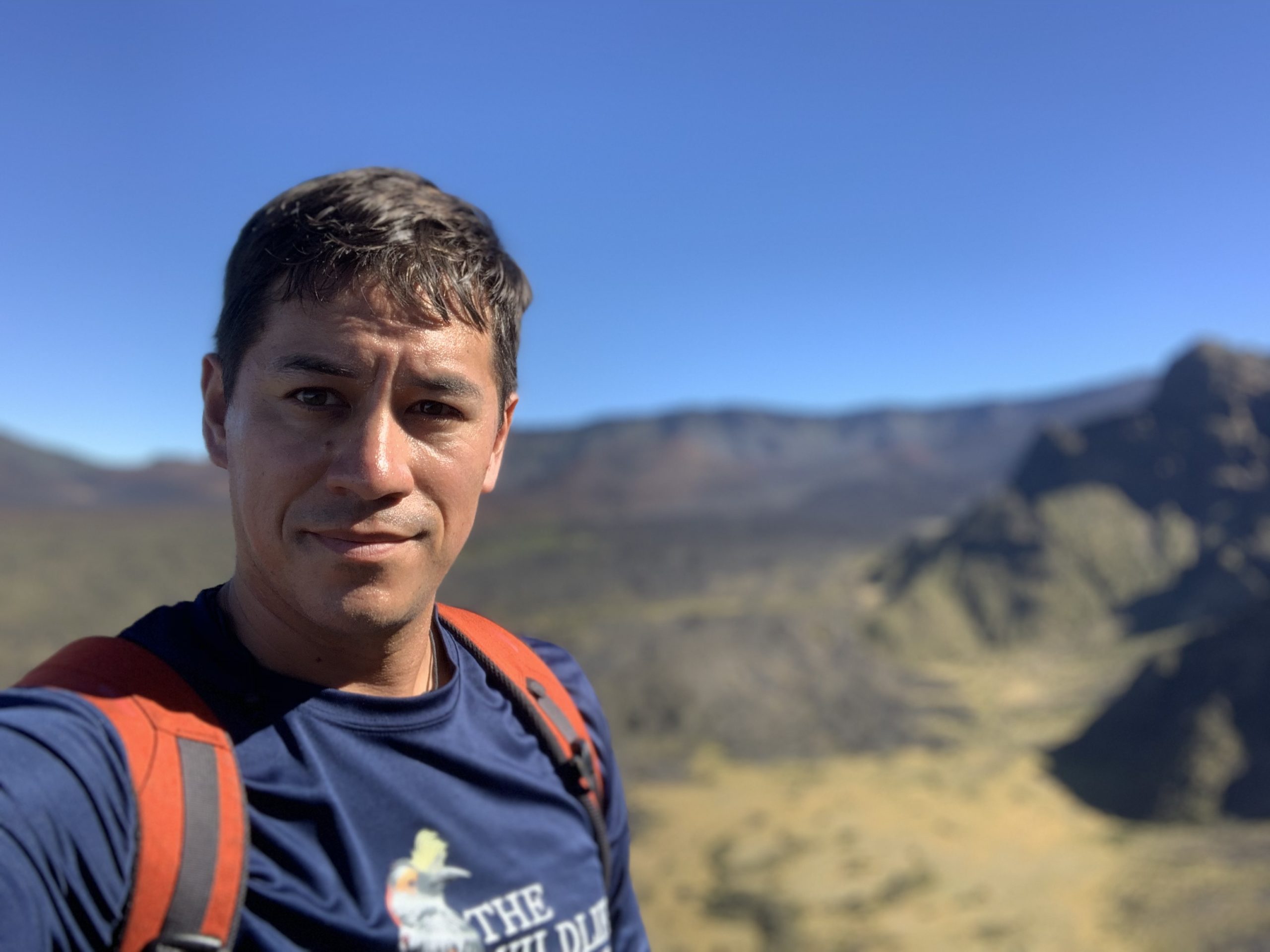 Alex Wang works for the Natural Area Reserve System with the Division of Forestry and Wildlife in Hilo, Hawaii. In his position, he is assisting with the Alala reintroduction, monitoring and improving habitat for Akiapola'au, and identifying critical seabird habitat and controlling for invasive mammalian predators. His interest in Ornithology began during his undergraduate education at the University of California, Santa Cruz. He then took many seasonal positions from banding Albatross in the Northwestern Hawaiian Islands, nest-searching for Wrentits in California, to monitoring Whiskered Auklets in Alaska to name a few. He completed his M.S. at the University of Hawaii, Hilo, radio-tagging Akohekohe and hand-tracking them through high-elevation wet forest. He joined the Hawaii chapter of The Wildlife Society in 2014 and became a member of the Board in 2017.
Alex Wang
Marty Kawasaki is an Avian Ecologist and Naturalist who specializes in Endangered waterbirds. She received her undergraduate degree in Sustainable Agriculture for the University of Hawaiʽi at Hilo. She returned to UH Hilo and completed her Masters in Tropical Conservation Biology and Environmental Science in 2019. Marty has worked on restoring habitat for native wildlife to tracking and monitoring their integration into the urban setting of Oahu. Her passion for wildlife began as a hunter and through mentorship from the hunting and conservation communities, Marty has made it her personal mission to be a bridge between the two. Currently Marty resides on Maunaloa Molokai where she has started her own conservation management and consulting business Makamae Natives LLC, with a mission to preserve, restore and mālama the natives of Hawaiʽi.
Marty Kawasaki
Professional Development Committee Representative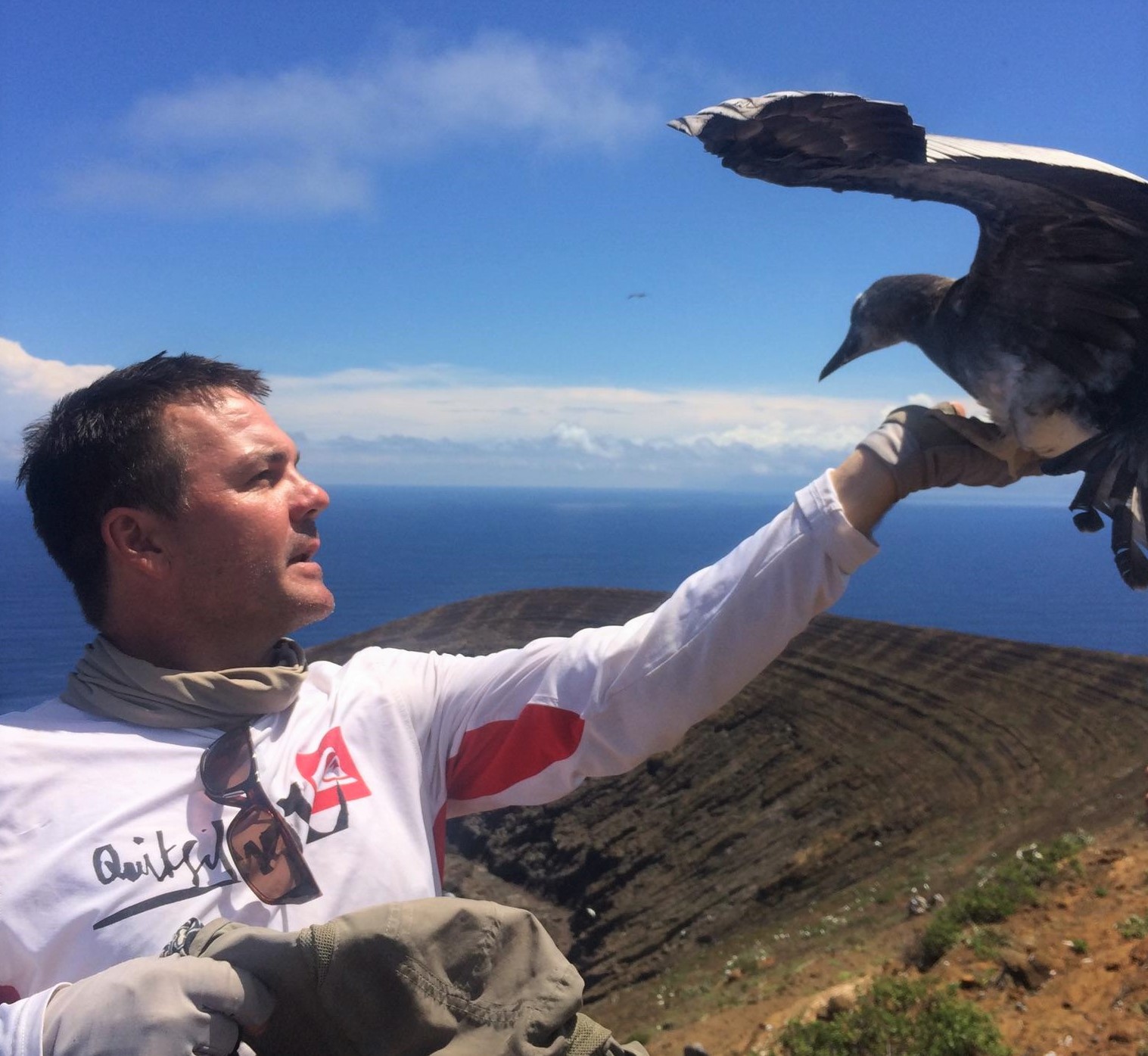 James Bruch is a Natural Resources Specialist with the Kaho'olawe Island Reserve Commission and has over 20 years of experience in Hawaiian Conservation Biology. He received a Dual BA/BS degree from The Evergreen State College in 1995 focusing in Environmental Science. After graduation he spent 6 years on the Maui Forest Bird Recovery Project as Research Associate. He was an integral part of the methodology development and safe translocations of Hawaiian Honeycreepers using helicopters, carrying cases and holding cages. In addition he worked for the Quinault Indian Nation in Washington State as a marbled murrelet surveyor, and was employed with the Maui Invasive Species Committee as Field Supervisor before coming to the KIRC. His resume includes an extensive ornithology background as well as trapping experience with cats, rats and mongoose and general predator control. At the KIRC he helped design the erosion control, planting and irrigation system while implementing four federal grants from the Department of Health as Project Assistant. Recently James has been the Project Lead for the Kahoʻolawe Island Seabird Restoration Project and Kaho'olawe Island Biosecurity Implementation Plan.
James Bruch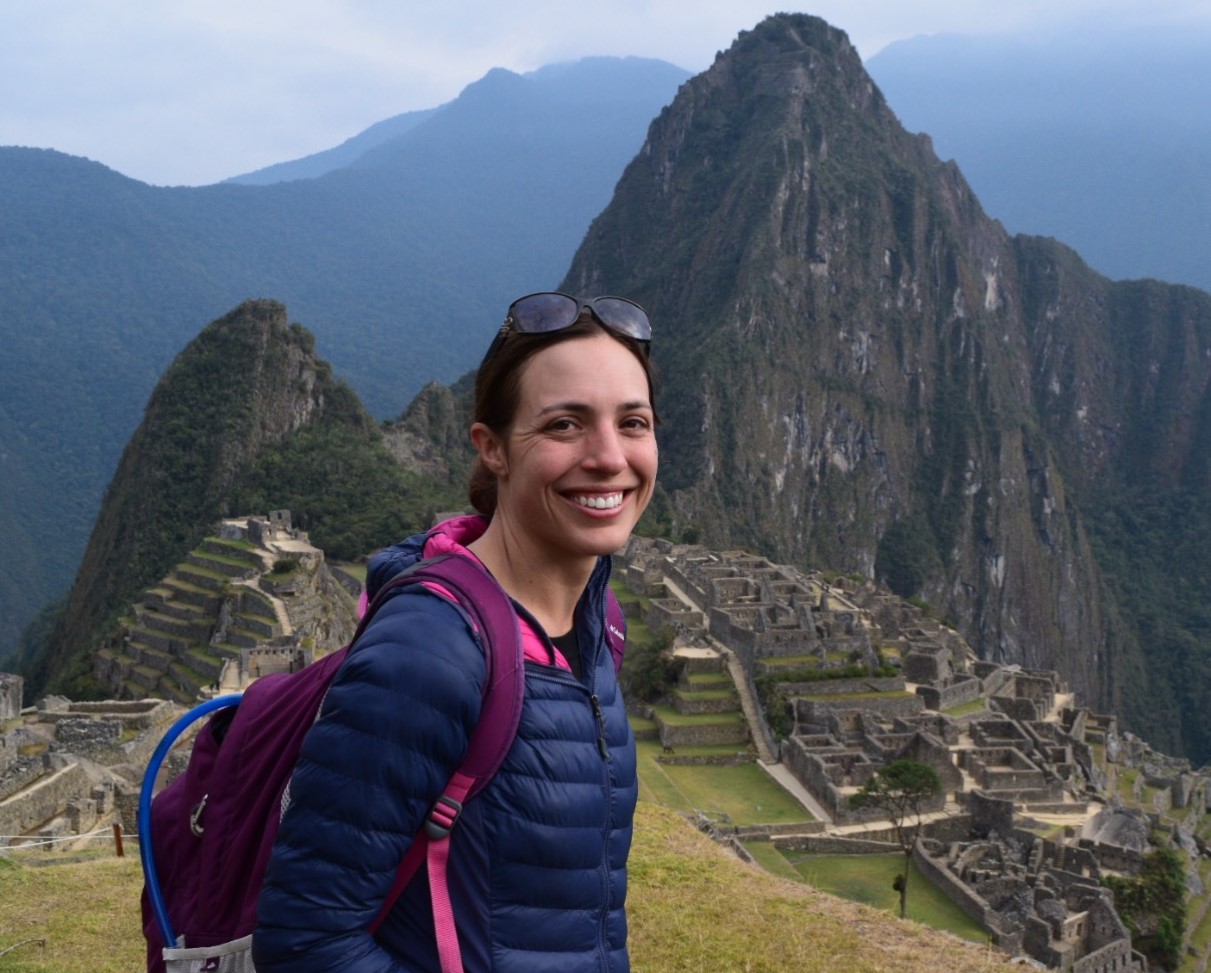 Lindsey Hamilton is a Lead Biological Science Technician at the Daniel K. Inouye Agricultural Research Center in Hilo. She conducts research that aims to develop management strategies for invasive and quarantine pests. Her current focus is on the control of the invasive yellow-shelled semi-slug (Parmarion martensi) and the nematode that causes rat lungworm disease (Agiostrongylus cantonensis). Lindsey completed her B.A. in Biology at the University of Hilo, where she studied the ecological impacts of invasive species in Hawai'i's native ecosystems. She subsequently completed a Master of Environmental Studies at the Evergreen State College, where she advocated for social justice and conservation while coordinating an endangered butterfly-rearing program with a state prison for the Sustainability in Prisons Project. Her master's research explored nocturnal habitat distributions and habitat use of sea ducks in the Puget Sound of Washington. Her previous experience also includes flammulated owl and wolverine population monitoring on the Boise National Forest and raptor education at the World Center for Birds of Prey. Lindsey has been a member of the National Wildlife Society since 2015 and a member and an at-large board member of the Hawaii Chapter for the past year as the membership coordinator.
Lindsey Hamilton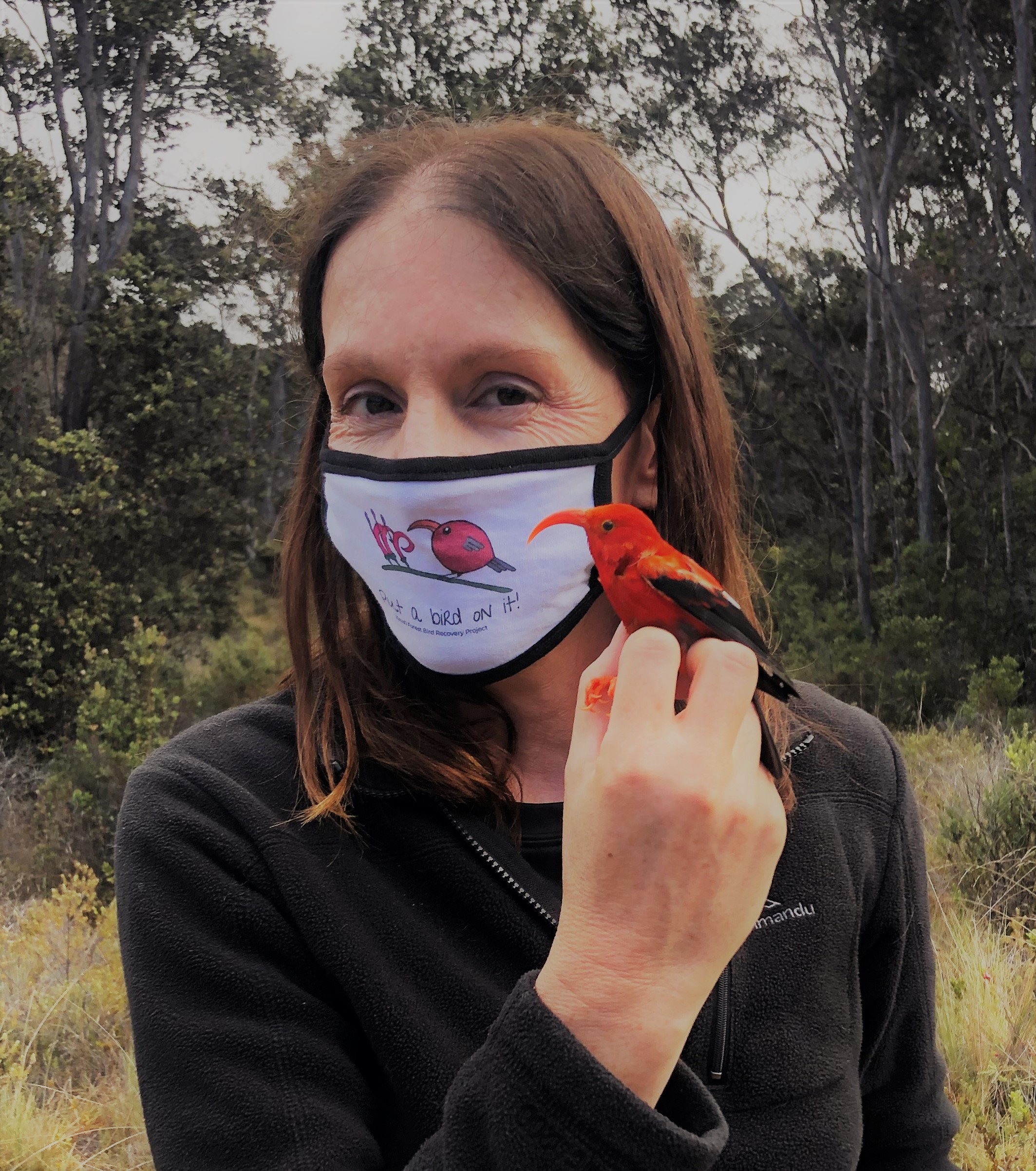 Lainie Berry is the Hawai'i Forest Bird Recovery Coordinator at DLNR-Division of Forestry and Wildlife. She oversees forest bird recovery projects across the state, as well as the implementation of the Hawai'i State Wildlife Action Plan. Lainie is a member of many Hawaiian forest bird working groups, as well as the Birds Not Mosquitoes steering committee, which endeavors to develop and implement a landscape-level mosquito control tool to address the extinction crisis many Hawaiian forest bird species are currently facing as a result of mosquito-borne avian malaria. She obtained her PhD in Melbourne, Australia, studying the breeding biology and nest predation rates in forest and shoreline-nesting species in the states of Victoria and Tasmania, and has since worked in this field in Australia, New Zealand, and Arizona. She has worked in wildlife management and endangered species recovery in the Pacific Islands for the past 12 years in the Northern Mariana Islands, American Samoa, and most recently Hawai'i. In her spare time, Lainie enjoys birdwatching and bird photography.
Lainie Berry
Nicholas Vargas is the Oahu Game Section Wildlife Biologist for the State Department of Land and Natural Resources (DLNR), Division of Forestry and Wildlife (DOFAW). He began his journey by moving to Oahu in 2010 where he was able to study at Hawaii Pacific University and graduated with honors in 2014 with a Bachelor's Degree in Marine Biology. He then pursued a 2-year path with a Kupu/AmeriCorps Internship, which led to further career opportunities through the Research Corporation of University of Hawaiʽi; eventually leading him to his current position with the State of Hawaiʽi. Nicholas' roles in this position include managing the game species, ungulates (pigs and goats) and various game birds. Managing hunting opportunities found on Oahu's Public Hunting Areas, Game Management Area, Non-PHA managed lands, and private lands. The program also manages and obtains information from public hunters to ensure the facilitation of a functional relationship between the State and the many user group of the public lands. Nicholas shares the love of Hawaiʽi's natural resources and its native species as many others that are committed to conservation and preservation of these sensitive areas. He does see that Public Hunters can be viewed as a resourceful tool to aid with various conservation efforts. Wanting to mend a stronger relationship between the mutli-user groups of the state-managed public lands, Nicholas strives to find solutions that promote Hawaiʽi's natural resources, wildlife, recreation, and cultural practices.
Nicholas Vargas