For more than 75 years, The Wildlife Society has been influencing the future of wildlife and wild places for the benefit of generations to come.
The Wildlife Society Hawai'i Chapter
The Wildlife Society Hawai'i Chapter dedicates itself to the conservation and preservation of flora and fauna endemic to the Hawaiian Islands. The Hawai'i Chapter is part of the Western Section of The Wildlife Society. Its membership is drawn from Honolulu, Kaua'i, Mau'i, and Hawai'i (Big Island) counties.
TWS Hawai'i Chapter's objectives are to:
Promote the sound stewardship of wildlife and their habitats in Hawai'i and the Pacific.
Promote the conservation of indigenous and endemic Hawaiian and other Pacific wildlife and their habitats.
Promote the development of knowledge, skills, and abilities necessary for success of wildlife professionals and the conservation community in the State of Hawai'i and Pacific.
The Wildlife Society
Founded in 1937, The Wildlife Society is an international non-profit scientific and educational association dedicated to excellence in wildlife stewardship through science and education. Our mission is to enhance the ability of wildlife professionals to conserve diversity, sustain productivity, and ensure responsible use of wildlife resources for the benefit of society. The Wildlife Society encourages professional growth through certification peer-review Publications, and Conferences. TWS is an international organization committed to addressing national and international issues that affect the current and future status of wildlife in North America and throughout the world.
Society members are dedicated to sustainable management of wildlife resources and their habitats. Ecology is the primary scientific discipline of the wildlife profession, therefore, the interests of the Society embrace the interactions of all organisms with their natural environments. The Society recognizes that humans, as other organisms, have a total dependency upon the environment. It is the Society's belief also that wildlife, in its myriad forms, is basic to the maintenance of a human culture that provides quality living.
Support TWS Hawaii by purchasing TWS Hawaii gear here.
Meet the Members of the Board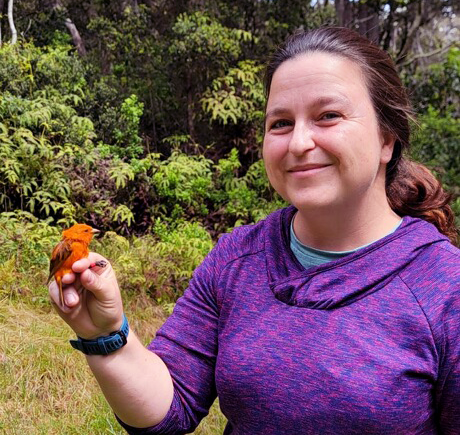 Cara Thow works for the Division of Forestry and Wildlife and Pacific Cooperative Studies Unit in Hilo, Hawaiʻi as the Avian Disease Research Supervisor for Hawaiʻi Island. She leads a team as a part of a statewide effort to assess the prevalence of avian malaria in high elevation populations of birds and mosquitoes, with a goal of informing future conservation efforts such as application of incompatible insect technique and translocation of critically endangered birds from other islands. Cara's abiding passion for wildlife culminated in obtaining her PhD in Ecology and Evolutionary Biology from the University of California, Santa Cruz in 2019, with an emphasis on avian behavior. She has previously worked for San Francisco Bay Bird Observatory and the United States Geological Survey monitoring shorebird and waterbird populations in Northern California, and for the National Ecological Observatory Network monitoring forest and climate variables on Hawaiʻi Island. She has been a member of the Wildlife Society since 2007 and a Hawaiʻi chapter member since 2022.
Cara Thow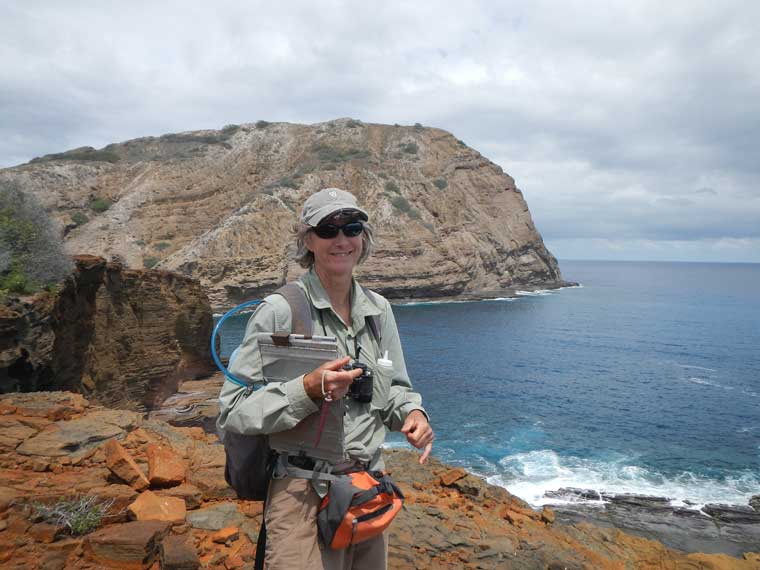 Brenda Becker is a Biological Technician with the Hawaiian Monk Seal Research Program at the National Marine Fisheries Service, Pacific Islands Fisheries Science Center in Honolulu, Hawai'i. She holds a B.S. in Wildlife and Range Management from the University of Nevada-Reno. Brenda began working with the Hawaiian monk seal in 1985 and has extensive experience conducting monk seal field research at all sites in the Northwestern Hawaiian Islands, which entailed living and working for 3-6 months in remote, primitive field camps for 17 seasons. Currently, Brenda is more Oahu-based and manages the monk seal digital photo ID databases, assists with data management, and opportunistically conducts field work. Brenda is a TWS-Certified Wildlife Biologist. She has been an active member of TWS-Hawaii Chapter, serving as Chapter Representative TWS-Western Section 1993-94, Secretary from 2002-2010, Vice-President 2011, Chapter's Newsletter editor 2011-2014, Vice President 2015, Secretary 2016, and Treasurer 2017-2019.
Brenda Becker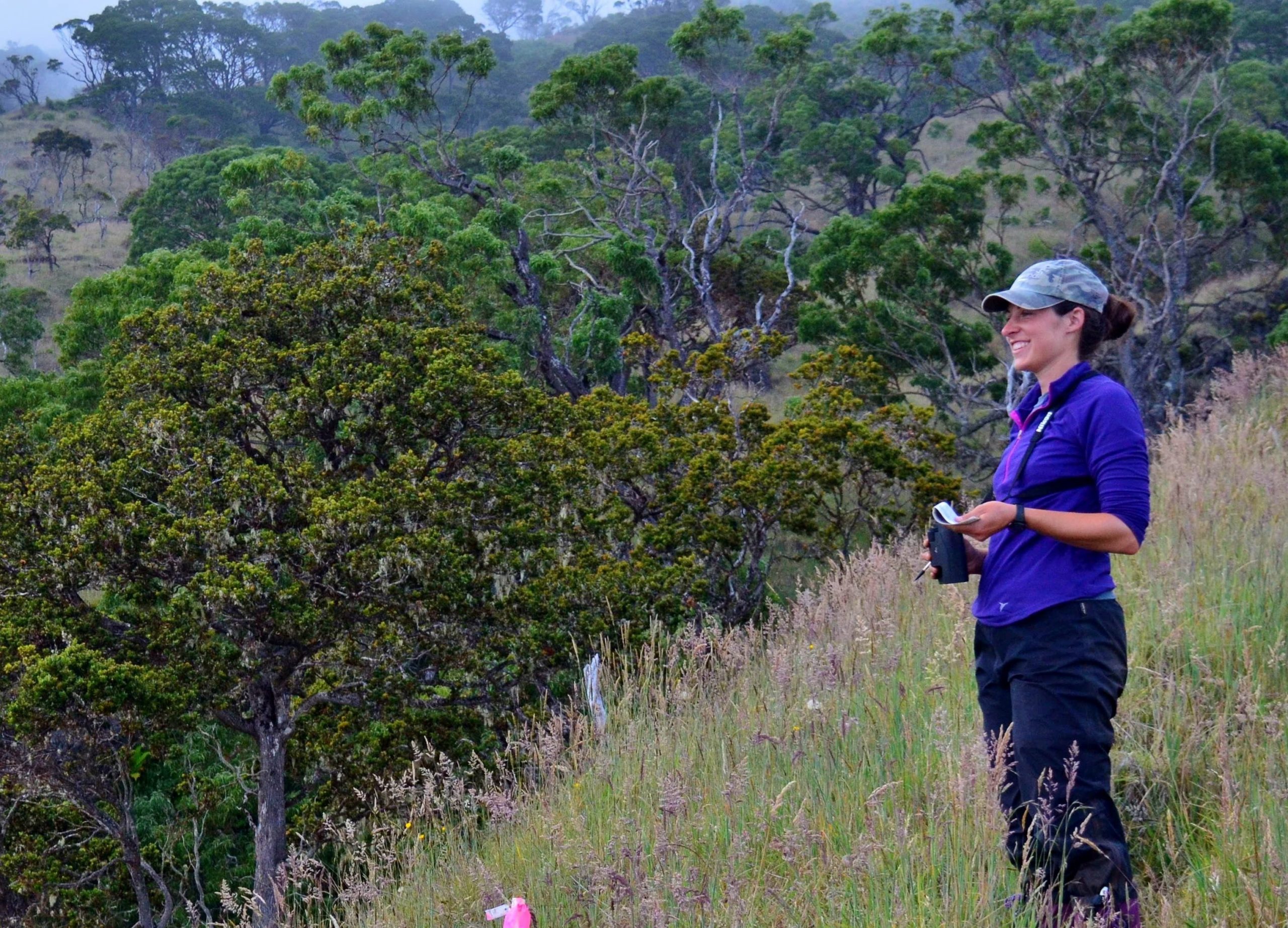 Laura Berthold is an Avian Research Senior Technician at the Maui Forest Bird Recovery Project (MFBRP). She began working for MFBRP in January 2009 serving as an AmeriCorps intern. In her current position, she helps lead the field crew, assists with planning and implementing research and management projects for native honeycreeper and forest recovery, writes grants and reports, and engages public support through presentations and other outreach events. Originally from the suburbs of Chicago, Laura studied Environmental Science at Loyola University Chicago. Laura began her road down wildlife research and conservation when she studied abroad in Brazil during college. Through this program as well as an internship with the Bureau of Land Management in Arizona, she gained experience with mist netting and surveying birds, animal husbandry, vegetation surveys, and more. In Hawai'i, she is involved with coastal cleanups, seabird banding, forest bird point counts, and of course enjoys all the outdoor recreational activities. She is a previous fellow of the Ka Ipu Kukui leadership program. Laura has been an at large board member since 2021.
Laura Berthold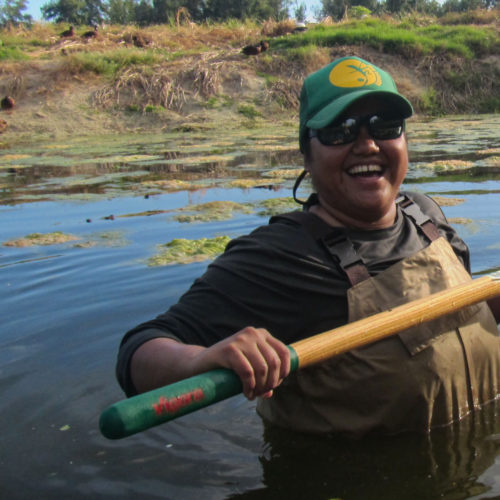 Hōkū Cody is a kamaʻāina of Moanalua and an ʻōiwi of Hawaiʻi Island. She mainly focuses on the intersection of technology, community, and seabird conservation to create meaningful impacts for Hawaiʻi's future generations. Hōkū has a degree in Digital Graphics & New Media from Providence, RI, as well as a degree in Marine Science from UH-Hilo. Since 2013, she has been involved in several seasonal field camps throughout Papahānaumokuākea. Since fieldwork, she has co-founded Nā Kiaʻi Nihokū–a community-based stewardship & education program in partnership with USFWS Kilauea Point National Wildlife Refuge. She also leads the Kiamanu Project–an effort that aims to increase community involvement in seabird conservation through supporting the perpetuation of traditional seabird stewardship practices. She is also involved with Resource Mapping Hawaii–an aerial mapping, remote-sensing, GIS-solutions company.
Hōkū Cody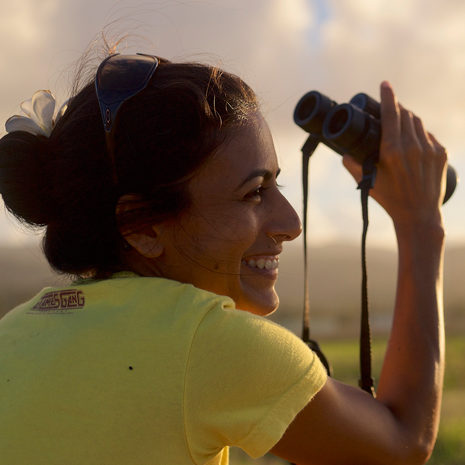 Afsheen Siddiqi is the State of Hawaiʻi Department of Land and Natural Resources (DLNR) Seabird and Waterbird Recovery Coordinator. Afsheen provides broad program coordination for avian conservation, specifically with regards to efforts to recover seabirds, waterbirds, and owls. She is responsible for grant and budget management, program review and development of recovery plans and project implementation and works collaboratively with a diversity of partners. Afsheen is dedicated and passionate about conservation issues in Hawaii and has worked on endangered species issues with the DLNR since 2011. Afsheen received her M.S. in Environmental Sciences focusing on Ecology from the University of Maryland Baltimore County in 2004. Prior to working at DLNR, she completed an Asia Pacific Leadership Program Fellowship with the East West Center with a focus on avian conservation efforts in Southeast Asia.
Afsheen Siddiqi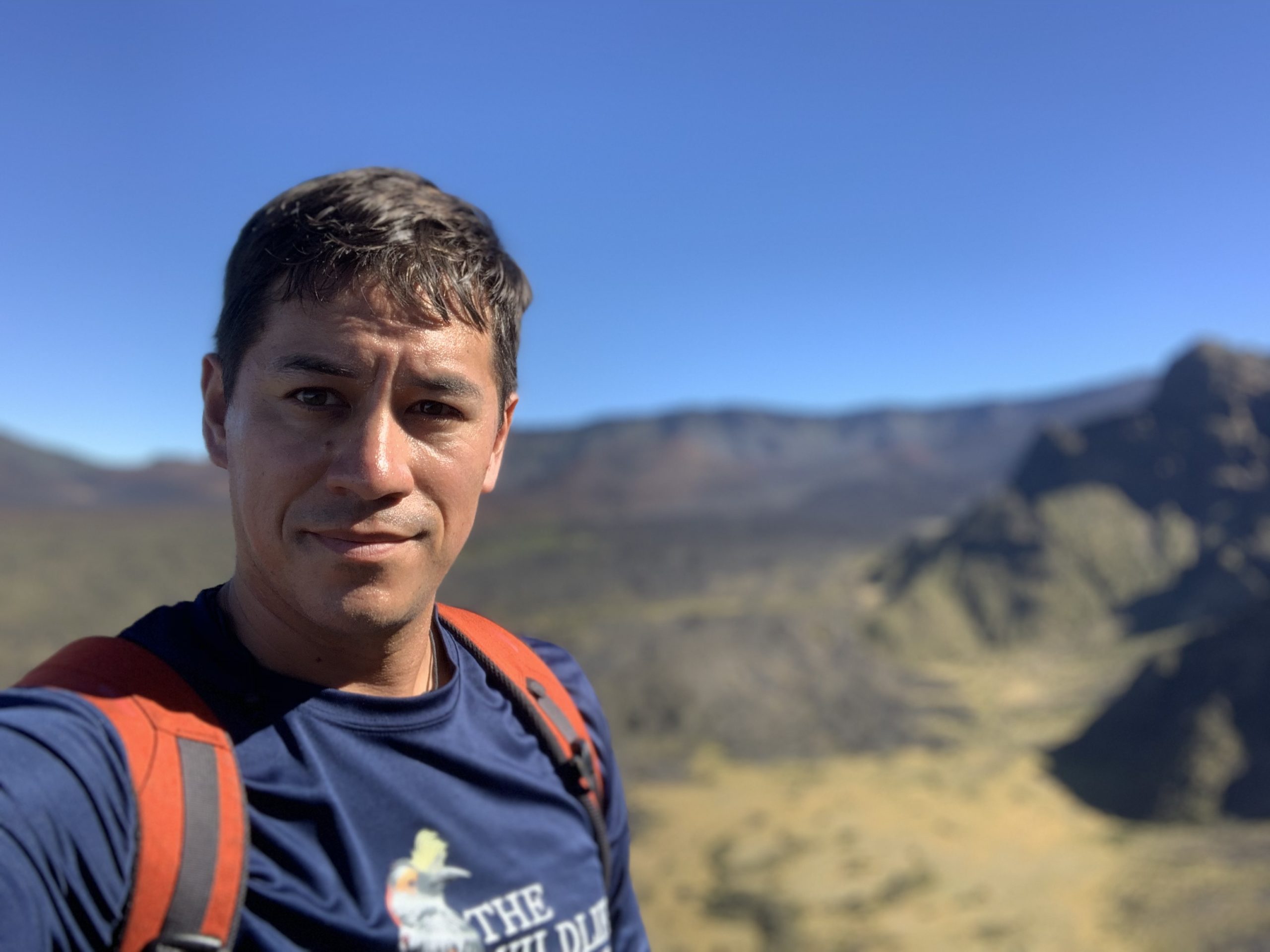 Alex Wang is a Wildlife Biologist for the state Division of Forestry and Wildlife based in Hilo, Hawaiʻi. He specializes on Hawaiian bird conservation from coastal wetland birds, surveying for wet forest birds, subalpine Palila to finding and managing remote seabird colonies on Hawaiʻi Island. His interest in Ornithology began during his undergraduate education at the University of California, Santa Cruz. He has worked in the Northwestern Hawaiian Islands, for Maui Forest Bird Recovery Project and Kauai Forest Bird Recovery Project and USGS before joining DOFAW. He completed his M.S. degree at the University of Hawaiʻi, Hilo radio-tagging and tracking ʻĀkohekohe through high elevation wet forest. He joined the Hawaiʻi Chapter of The Wildlife Society in 2014 and became a board member in 2017.
Alex Wang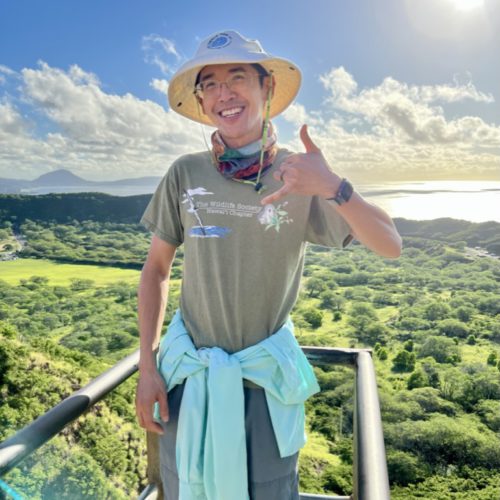 Patrick Chee has been working in Conservation in Hawaii since 2006. Born and raised on Oʻahu, Patrick's interest in science and protection of Hawaiʻi's native species started from "small kid time" and has never left. Patrick has worked on conservation projects from the slopes of Mauna Kea to the sandy shores of Midway Atoll. Most recently, Patrick worked as the Small-Mammal Control Planner for Hawaii Department of Land and Natural Resources, Division of Forestry and Wildlife through the Pacific Cooperative Studies Unit of the Research Cooperative Studies Unit. His main projects included work on issues related to rats, mice, mongoose, and cats. During his tenure he eradicated rats from Lehua Island. He added new tools and restored old ones to the toolbox for controlling small-mammals. He also worked with both the conservation community and the greater community in Hawaiʻi to bring the issue of cats and their impacts on Hawaiʻi's native ecosystems to the fore. Patrick has a background in conservation, law, and mediation. As such, Patrick has been working to improve the conversation and participation of conservationists in policy discussions and action. Patrick looks forward to bringing more of those discussions to TWS.
Patrick Chee
Conservation Affairs Coordinator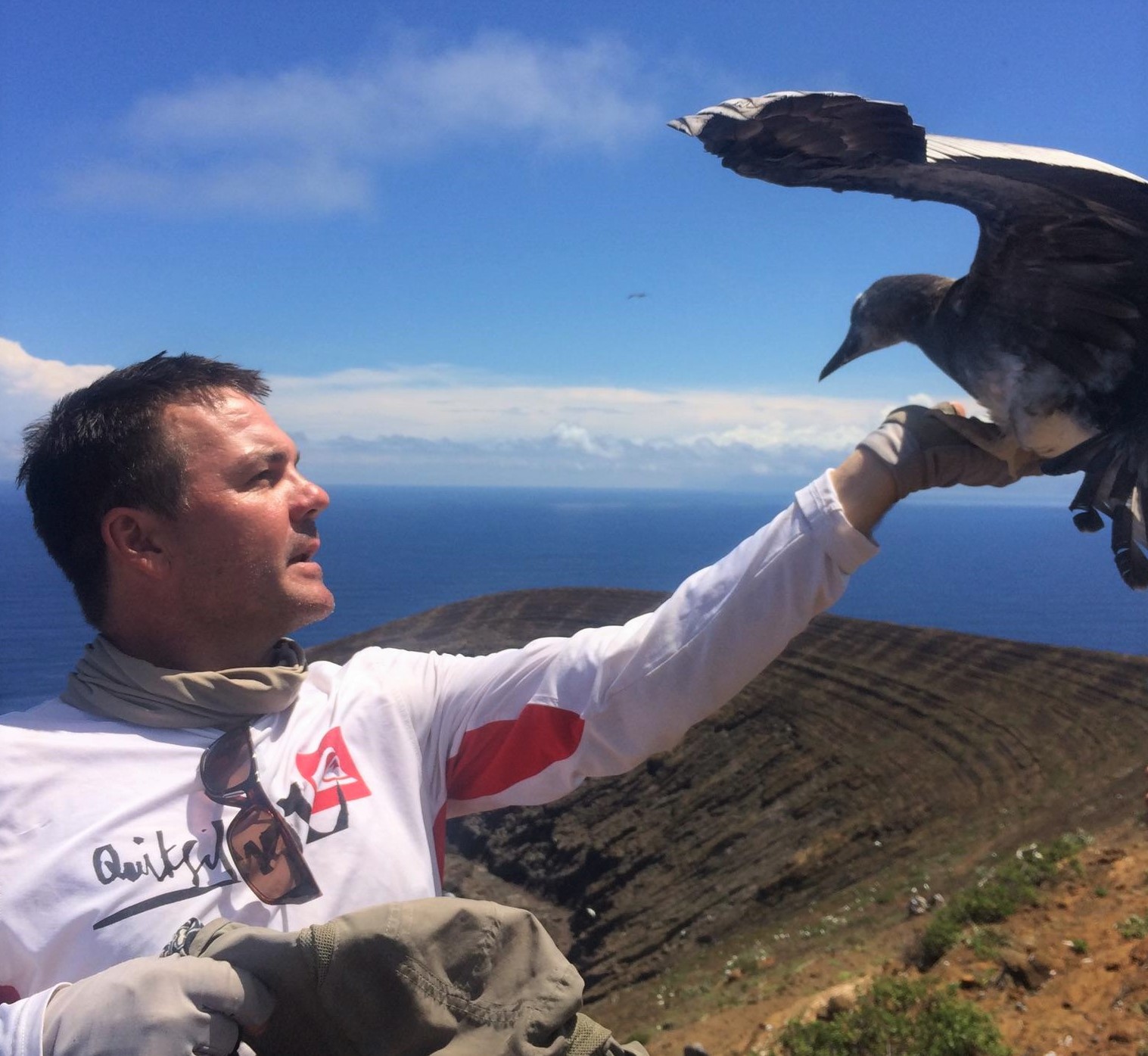 James Bruch is a Natural Resources Specialist with the Kaho'olawe Island Reserve Commission and has over 20 years of experience in Hawaiian Conservation Biology. He received a Dual BA/BS degree from The Evergreen State College in 1995 focusing in Environmental Science. After graduation he spent 6 years on the Maui Forest Bird Recovery Project as Research Associate. He was an integral part of the methodology development and safe translocations of Hawaiian Honeycreepers using helicopters, carrying cases and holding cages. In addition he worked for the Quinault Indian Nation in Washington State as a marbled murrelet surveyor, and was employed with the Maui Invasive Species Committee as Field Supervisor before coming to the KIRC. His resume includes an extensive ornithology background as well as trapping experience with cats, rats and mongoose and general predator control. At the KIRC he helped design the erosion control, planting and irrigation system while implementing four federal grants from the Department of Health as Project Assistant. Recently James has been the Project Lead for the Kahoʻolawe Island Seabird Restoration Project and Kaho'olawe Island Biosecurity Implementation Plan.
James Bruch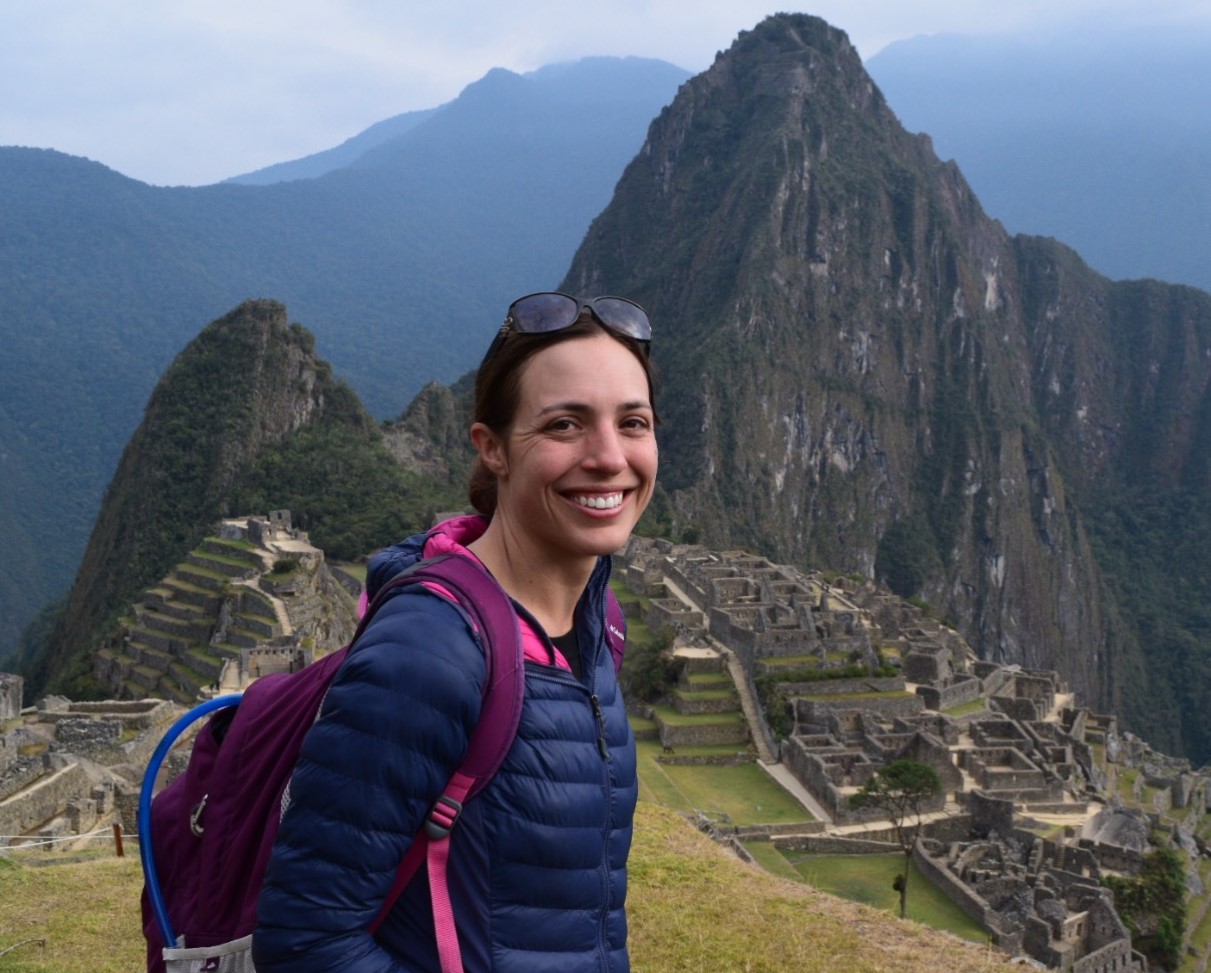 Lindsey Hamilton is a Lead Biological Science Technician at the Daniel K. Inouye Agricultural Research Center in Hilo. She conducts research that aims to develop management strategies for invasive and quarantine pests. Her current focus is on the control of the invasive yellow-shelled semi-slug (Parmarion martensi) and the nematode that causes rat lungworm disease (Agiostrongylus cantonensis). Lindsey completed her B.A. in Biology at the University of Hilo, where she studied the ecological impacts of invasive species in Hawai'i's native ecosystems. She subsequently completed a Master of Environmental Studies at the Evergreen State College, where she advocated for social justice and conservation while coordinating an endangered butterfly-rearing program with a state prison for the Sustainability in Prisons Project. Her master's research explored nocturnal habitat distributions and habitat use of sea ducks in the Puget Sound of Washington. Her previous experience also includes flammulated owl and wolverine population monitoring on the Boise National Forest and raptor education at the World Center for Birds of Prey. Lindsey has been a member of the National Wildlife Society since 2015 and a member and an at-large board member of the Hawaii Chapter for the past year as the membership coordinator.
Lindsey Hamilton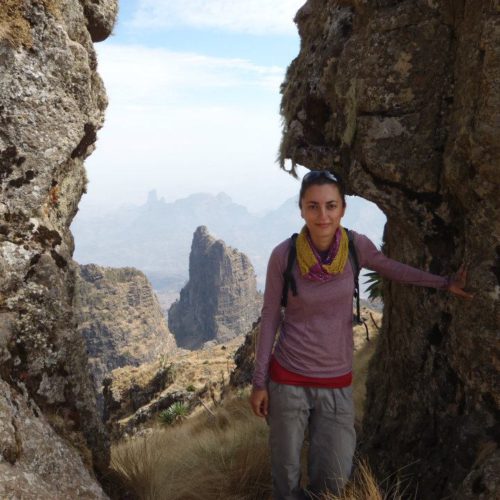 Shaya Honarvar is an ecologist and conservation biologist whose research focuses on
assessing threats to biodiversity and addressing those threats by providing a scientific
basis for informing natural resource management decisions. She has conducted and
collaborated on a broad range of basic and applied research in marine and terrestrial
environments over the past two decades, with projects in Nicaragua, Costa Rica, Equatorial Guinea and more recently here in Hawai'i. Shaya received her Ph.D. in Biological Sciences from Drexel University in 2008, a M.Sc. in Biology from the University of Pennsylvania in 2004, and a combined BS/MS degree in biotechnology and engineering from the Hogeschool Utrecht in The Netherlands in 2000. Prior to joining University of Hawai'i at Mānoa, Shaya was a Wildlife Biologist with the Hawai'i Department of Land and Natural Resources, Division of Forestry and Wildlife, and a Research Assistant Professor in the Department of Biology at Purdue University, Fort Wayne. As the Director of the Pacific Cooperative Studies Unit, Shaya oversees multidisciplinary research, conservation, and management programs on a diverse range of terrestrial and aquatic organisms and ecosystems throughout Hawai'i.
Shaya Hornarvar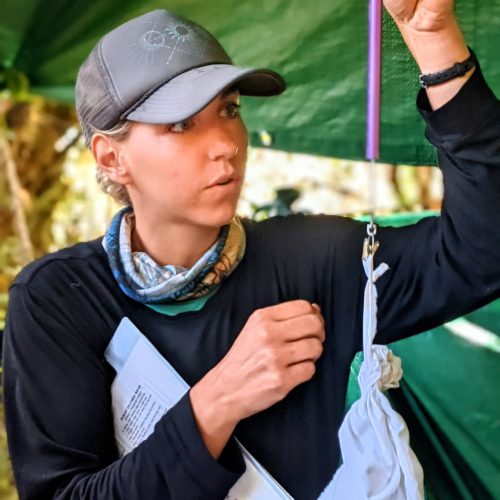 Erin Bell is currently an Avian Disease Field Associate at Maui Forest Bird Recovery Project, but was also in the role of Research Associate for the project in 2019-2020. She assists with the monitoring and protection of endangered bird species, habitat restoration, report writing, and outreach efforts. In addition to her work with birds, she was a Field Supervisor for Maui Invasive Species Committee working to control invasive plants and coqui frogs throughout the island. Originally from Montana, she has been involved in conservation work from a young age, receiving a B.S. in Biology from Carroll College and an M.A. in Zoology from Miami University. While she has held several seasonal wildlife positions in the past, she is passionate and excited about conservation issues in Hawai'i and looks forward to finding solutions that protect and restore the islands' ecosystems.
Erin Bell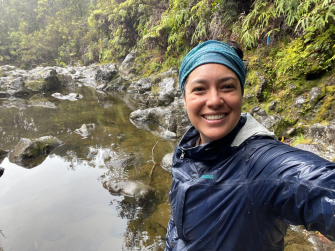 Lisa Mason is from Hilo, Hawaiʻi, and is currently a master's student in the University of Hawaiʻi at Hilo Tropical Conservation Biology and Environmental Science Program. Her thesis work involves characterizing the vocalizations of Palila, a critically endangered Hawaiian finch, and investigating how Palila population decline over the last 60 years has affected the vocal culture of these rare birds.
Lisa Mason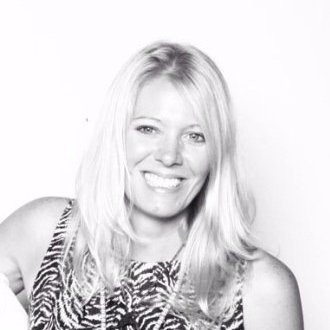 Candee is the Executive Director (ED) of Keahole Center for Sustainability (KCS). She graduated with a degree in Biology, with a focus on wildlife ecology and nature interpretation, and later with a master's degree in Zoology. She spent nearly 20 years working as a Conservation Biologist, as the Conservation Coordinator at the Toledo Zoo (in-situ and ex-situ endangered species recovery). Her focus was island biodiversity/island ecosystems and conservation science, but has had a life-long interest in conservation and sustainability. She was also an adjunct professor teaching undergraduate courses for the University of Findlay and graduate courses for Miami University, as well as serving as a reviewer on the University of Toledo's Institutional Animal Care and Use Committee (IACUC). In her spare time she also did private biological consulting for a variety of conservation projects throughout the West Indies. More recently she served as the Executive Director of a nonprofit Wildlife Rehabilitation and Conservation Education Center before moving to the Big Island.
Candee Ellsworth
Professional Development Committee Representative